Providing Quality Yarns To Independent Yarn Shops since 1964.
Hello, and Welcome to Plymouth Yarn's Blog!
You can find marketing news and design details from Kaelin Hearn - Find out our newest ideas and thoughts. We will talk about all aspects of the industry from yarn, knitting, crocheting, weaving, design, patterns, etc. If you are looking to purchase yarn, please click the "Find a Shop" link to the right. We are wholesale only. To always be in the loop, be sure to subscribe to our blog by clicking here. We welcome all to join and participate. Let's have fun:)
Written on May 18, 2015 at 9:00 am, by Allison
It's just about summer time here in Bristol.  It's hot and humid during the day but the evenings are still slightly cool.  If you have a wee one, it's still nice to cover their sweet, little heads on those cool nights by the fire pit or during a walk on the famous boardwalks of the Jersey shore.  Plymouth Yarn has them covered!  Pattern F597, made using Sesia Bimbo,  a soft cotton rolled brim hat is just perfect for those nights.  It's available in 6 beautiful, baby friendly shades.  We want to celebrate this yarn and the season by sharing the pattern and giving 5 lucky winners the yarn they need to make it!  The hat is available in sizes preemie to 6 months.  To be eligible to win, comment on our blog, or share the post on facebook, retweet and tag us on twitter, or you can even pin this post on pinterest.   Winners will be chosen at random on or about May 26th 2015.
Written on May 11, 2015 at 9:54 am, by Allison
My 9 year old son was given the task of picking out my Mother's Day gift all by himself with his very own money this year, for the first time.  I have to say, he did very well.  I received an array of nail polishes in every shade of blue (my favorite color) imaginable and a beautiful orchid.  He's growing into a sweet young man, that's for sure.  I adore and treasure all of the homemade picture frames, pipe cleaner flowers and finger painted works of art from the past years but I think the fact that he really put thought into my gift that made it so very special to me.  I honestly thought I'd end up with a Lego set!
For three lucky ladies out there, we have the gift you really wanted! All you have to do is win it! This beautiful Bio Sesia 5  CROCHET cardigan kit, pattern 2804, comes in so many sizes it will fit and flatter just about every mom.  The luxurious, 100% organic cotton Bio Sesia 5 is super soft with a beautiful drape.  It will be your spring/summer/fall go-to coverup for that night around the fire pit with mommy drinks after the kiddos are asleep!
Would you like a chance to win this kit? Just comment on our blog with the best or "it's the thought that counts" gift you've ever received for Mother's Day.  Not a mom? You can play too! Tell us the best or worst gift you ever gave your mom/teacher/Grandmom/Aunt.
Colors will vary.  Winner chosen at random on or about May 15th 2015.
Written on May 4, 2015 at 9:30 am, by Allison
Happy Star Wars Day! It's the first week of our Crazy for Cotton Giveaway! Like and share the post on Facebook you will. A chance to win market bag pattern 2287 and the Fantasy Naturale yarn to make it you will get!
Winner will be notified by inbox message on facebook (please be sure to check your other folder!) May 8th. Several prizes available, colors will vary

Don't have facebook? No worries….comment on this post with your favorite Yodaism or your go-to Fantasy Naturale project and you too will be eligible to win! Blog entry winners will be notified via email on May 8th.  Winners chosen at random.
Written on May 1, 2015 at 11:06 am, by Allison
At Plymouth Yarn, we are so excited for spring! We have decided to celebrate by hosting a few giveaways!  Follow us and keep your eyes glued to our Facebook page, Twitter, Instagram and our blog Mondays in May to see what we want you to win!  We'll have little kits, big kits, and lots of kits complete with the patterns and yarn you need to complete the project!
Written on February 16, 2015 at 11:22 am, by Allison
By now you may have seen the gorgeous colors in the Pantone Fashion Color Report Fall 2015.  The trend is beautiful, earthy natural colors that make a bold statement.  The designers have spotlighted progressive movements in American history while keeping the tones appropriate for both masculine and feminine designs.
Plymouth Yarn provides these warm tones in our 100% wool, Galway, made in Peru.  We chose this yarn because of it versatility, warmth and it's an absolute pleasure to knit or crochet.  Here is a list to assist you in finding the right shade for the upcoming season!
Written on February 11, 2015 at 4:52 pm, by Allison
This is one of my favorite times of the year. Perhaps most of you would not agree if
1) you are snowed in until April
2) your garden looks like a slushy, sad mass of brown or
3) the holiday season is over and it feels like the doldrums are kicking in.
BUT for me, I absolutely love the freeing feeling of no-obligation-to-knit-gifts February!!!
Which brings me to a quick little treat you might make for yourself or (if you happen to not mind still knitting gifts) for a sweet friend.
Joanne Turcotte's Traveling Cowl takes one lovely skein of our Worsted Merino Superwash Hand Dyed. Choose from 5 fun speckled colors, or try a variegated from our collection.
I think it could be a weekend project?
Written on January 27, 2015 at 2:52 pm, by Cia
After all of the years that Plymouth has been selling Book # 638, Done By Monday Afghans, it proves that simplicity sells.  This book was originally published in 2008 and it still sells just as strong as it did back 7 years ago if not more.
There are 15 easy afghan patterns for any skill level of knitter.  And each blanket is produced using 10 balls of Encore Worsted. You are double stranding the yarn and using up around size 13 needles to accomplish your project. Truly capable of knitting one in 3 days!  (Binge TV may be the other pleasure to accomplish during this exercise).
There are so many choices now in the Encore Family since this book was first published: Coffee Beenz, Encore Worsted Tweed, Encore Worsted Colorspun,Encore Dynamo, and for a more playful result consider Jelli Beenz, Baby Beenz, or even the new Toybox Collection!
Jump to the Plymouth Website and check out all the different possibilities.  http://www.plymouthyarn.com/yarns
Ask for it at your local yarn shop!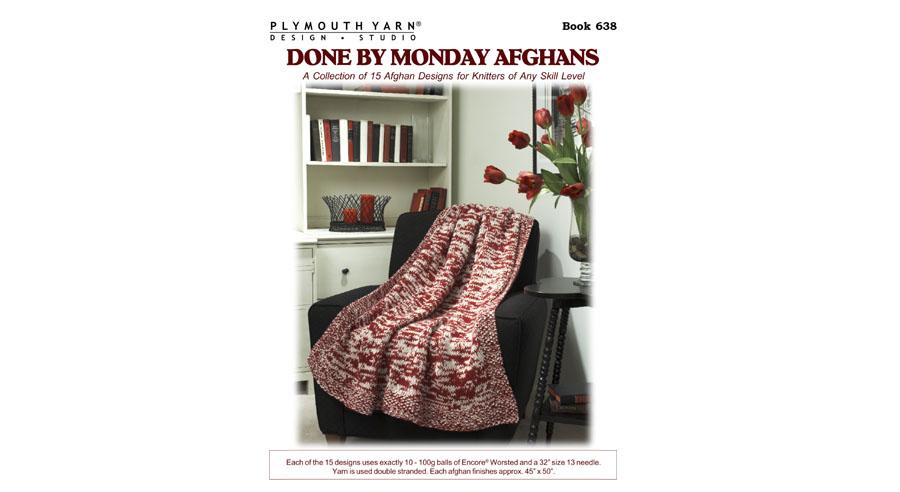 Written on December 22, 2014 at 8:30 am, by Allison
Lately we see a trend of using interesting dye techniques with easy to knit patterns. The simple patterns show off the yarn in the best way- making sure that the specialty of the dyers handiwork is paramount.
Our Happy Feet Splash yarn is just that- a fun sprinkle dyed yarn with speckles of many different colors throughout. Shown below in a design by Sue Hilger. The color is best described as… blue oreo! Sue's design is a nice garter and yarn over circular scarf, with a fun twist at the end- you get to drop stitches on purpose! Check out all the cool splash colors and designs we have in Happy Feet Splash… Then, download Sue's free Happy Feet Splash Circular Scarf pattern.
Written on December 16, 2014 at 8:30 am, by Allison
We have several designs to share in the newest Creative Knitting, which is on newstands today!
Written on December 5, 2014 at 10:01 am, by Allison
There is something very special happening at the Delaware Museum of Natural History! Designer Sharon Silverman has lead her team to create a beautiful and unique yarn bomb experience.

Our favorite component has to be Yarnboa!  This cuddly snake  is over 40 feet long and constructed mostly of Plymouth Yarns! Almost 9000 yards of yarn were used for this creature which was created to celebrate the museum's exhibit Titanboa:Monster Snake.  The snake is filled with used newspaper and plastic bags.  Sharon plans to reconfigure the crocheted creations into blankets, which will be donated to the Friends Association for Care and Protection of Children in West Chester. You can meet her at the museum on Sunday December 14 from 1-3 pm.  The Titanboa exhibit will run until January 25th, 2015.

Sharon has been creating beautiful yarn bombs for some time now, you can see some examples of her amazing work on her facebook page.  Here are a couple other creations you can see at the museum located at 4840 Kennett Pike, Wilmington, De., 19807.