Providing Quality Yarns To Independent Yarn Shops since 1964.
Hello, and Welcome to Plymouth Yarn's Blog!
You can find marketing news and design details from Kaelin Hearn - Find out our newest ideas and thoughts. We will talk about all aspects of the industry from yarn, knitting, crocheting, weaving, design, patterns, etc. If you are looking to purchase yarn, please click the "Find a Shop" link to the right. We are wholesale only. To always be in the loop, be sure to subscribe to our blog by clicking here. We welcome all to join and participate. Let's have fun:)
Written on February 16, 2015 at 11:22 am, by Allison
By now you may have seen the gorgeous colors in the Pantone Fashion Color Report Fall 2015.  The trend is beautiful, earthy natural colors that make a bold statement.  The designers have spotlighted progressive movements in American history while keeping the tones appropriate for both masculine and feminine designs.
Plymouth Yarn provides these warm tones in our 100% wool, Galway, made in Peru.  We chose this yarn because of it versatility, warmth and it's an absolute pleasure to knit or crochet.  Here is a list to assist you in finding the right shade for the upcoming season!
Written on February 11, 2015 at 4:52 pm, by Allison
This is one of my favorite times of the year. Perhaps most of you would not agree if
1) you are snowed in until April
2) your garden looks like a slushy, sad mass of brown or
3) the holiday season is over and it feels like the doldrums are kicking in.
BUT for me, I absolutely love the freeing feeling of no-obligation-to-knit-gifts February!!!
Which brings me to a quick little treat you might make for yourself or (if you happen to not mind still knitting gifts) for a sweet friend.
Joanne Turcotte's Traveling Cowl takes one lovely skein of our Worsted Merino Superwash Hand Dyed. Choose from 5 fun speckled colors, or try a variegated from our collection.
I think it could be a weekend project?
Written on January 27, 2015 at 2:52 pm, by Cia
After all of the years that Plymouth has been selling Book # 638, Done By Monday Afghans, it proves that simplicity sells.  This book was originally published in 2008 and it still sells just as strong as it did back 7 years ago if not more.
There are 15 easy afghan patterns for any skill level of knitter.  And each blanket is produced using 10 balls of Encore Worsted. You are double stranding the yarn and using up around size 13 needles to accomplish your project. Truly capable of knitting one in 3 days!  (Binge TV may be the other pleasure to accomplish during this exercise).
There are so many choices now in the Encore Family since this book was first published: Coffee Beenz, Encore Worsted Tweed, Encore Worsted Colorspun,Encore Dynamo, and for a more playful result consider Jelli Beenz, Baby Beenz, or even the new Toybox Collection!
Jump to the Plymouth Website and check out all the different possibilities.  http://www.plymouthyarn.com/yarns
Ask for it at your local yarn shop!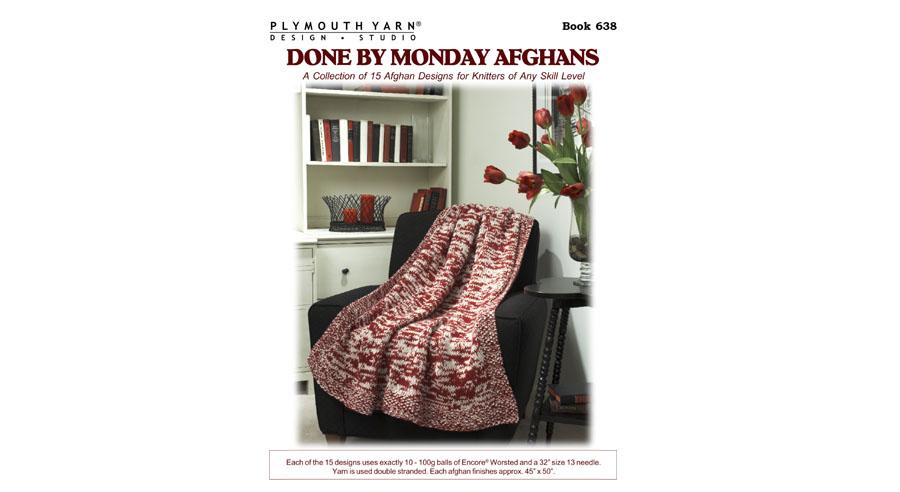 Written on December 22, 2014 at 8:30 am, by Allison
Lately we see a trend of using interesting dye techniques with easy to knit patterns. The simple patterns show off the yarn in the best way- making sure that the specialty of the dyers handiwork is paramount.
Our Happy Feet Splash yarn is just that- a fun sprinkle dyed yarn with speckles of many different colors throughout. Shown below in a design by Sue Hilger. The color is best described as… blue oreo! Sue's design is a nice garter and yarn over circular scarf, with a fun twist at the end- you get to drop stitches on purpose! Check out all the cool splash colors and designs we have in Happy Feet Splash… Then, download Sue's free Happy Feet Splash Circular Scarf pattern.
Written on December 16, 2014 at 8:30 am, by Allison
We have several designs to share in the newest Creative Knitting, which is on newstands today!
Written on December 5, 2014 at 10:01 am, by Allison
There is something very special happening at the Delaware Museum of Natural History! Designer Sharon Silverman has lead her team to create a beautiful and unique yarn bomb experience.

Our favorite component has to be Yarnboa!  This cuddly snake  is over 40 feet long and constructed mostly of Plymouth Yarns! Almost 9000 yards of yarn were used for this creature which was created to celebrate the museum's exhibit Titanboa:Monster Snake.  The snake is filled with used newspaper and plastic bags.  Sharon plans to reconfigure the crocheted creations into blankets, which will be donated to the Friends Association for Care and Protection of Children in West Chester. You can meet her at the museum on Sunday December 14 from 1-3 pm.  The Titanboa exhibit will run until January 25th, 2015.

Sharon has been creating beautiful yarn bombs for some time now, you can see some examples of her amazing work on her facebook page.  Here are a couple other creations you can see at the museum located at 4840 Kennett Pike, Wilmington, De., 19807.
Written on November 24, 2014 at 2:40 am, by Allison
Happy Thanksgiving from The Plymouth Yarn Company! We are sponsoring a fabulous deal for your Small Business Saturday shopping! Visit one of these shops on November 29th and the first 10 customers in each shop to purchase $50 of Plymouth Yarn products will receive a coupon to save $20 off your next $50 Plymouth Yarn purchase during the month of December.  This is a limited time deal and original purchase must be made on November 29th.  Get to your yarn shop early for best selection. Contact the shop for hours. This offer is available in store and only at the shops listed below.  See shop for further details.
Grandma's Spinning Wheel, Tucson, AZ
The Black Purl, Devonshire, Bermuda
 Continental Stitch, Morgan Hill, CA
Heartstrings Yarn Studio, Chico, CA
Imagiknit, San Francisco, CA
Knit Wits, Paradise, CA
Knitting by the Sea, Carmel, CA
La Knitterie Parisienne, Studio City, CA
Stitches in Time, Bellflower, CA
Fiberspace, Sterling, CO
Creative Fibers, Windsor, CT
Knit & Purls, Avon, CT
Saybrook Yarn, Old Saybrook, CT
The Yarn Basket, Brandford, CT
Just Imagiknit, Lake Worth, FL
The Yarn Lady, Summerfield, FL
SugarFoot Yarns, Peachtree City, GA
Yarn Rhapsody Inc, Gainesville, GA
Aloha Yarns, Kaneohe, HI
Yarn & Needleecraft LTD, Kailua, HI
The Yarn Connection, Idaho Falls, ID
Betsy's, Lockport, IL
Blue Beaker, Westmont, IL
Mosaic Yarn Studio, Mount Prospect, IL
Wool and Company, St Charles, IL
Always In Stickes, Noblesville, IN
River Knits, Lafayette, IN
Shabby Sheep & Ewe, Columbus, IN
Knit On! Newport, KY
Special Things By Dianne, Utica, KY
Needlework Vault, New Orleans, LA
Yarn Nook, LLC, Lafayette, LA
Creative Warehouse, Needham, MA
Putting on the Knits, W Newton, MA
Suzi's Fiber Cat, South Grafton, MA
Webs, Northampton, MA
Yarn Basket, Mashpee, MA
Second Story Knits, Bethesda, MD
Country Needleworks, Jenison, MI
Gloria's Happy Hooker, Sault Sainte Marie, MI
Have You Any Wool, Berkley, MI
My Craft Room, Troy , MI
PK Yarn Over Knit, Clawson , MI
The Elegant Ewe, Menominee, MI
Northfield Yarn, Northfield, MN
What in Yarnation, Cannon Falls, MN
HearthStone Knits, St Louis, MO
Wild Purls Yarns, Billings, MT
Friends & Fiberworks, Candler, NC
Make It With Yarn, Mars Hill, NC
A Stitch In Time, Farmingdale, NJ
Out of the Loop, Hopewell Junction, NY
Birds of a Feather, Westlake, OH
Knit Wit Knits, Salem, OH
Main Street Yarns, Mason, OH
RaeMarie Yarns, Vermillion, OH
Silk Road Textiles, Cincinnati, OH
The Yarn Shop, Inc, Columbus, OH
Yarn Cravin', Perrysburg, OH
Loops, Tulsa, OK
Knitting Bee, LLC, Portland, OR
Knitty Gritty, Lebanon, OR
Nitro Knitters, Portland, OR
Northwest Wools, Portland, OR
EweNique Sheep, DuBois, PA
Lillie's Yarns, Perkasie, PA
Rosie's Yarn Cellar, Philadelphia, PA
Stash, Havertown, PA
The Ball and Skein Shop, Lititz, PA
The Knitter's Edge, Bethlehem, PA
The Memory Tree, Monongahela, PA
Yarns By Design, Oakmont, PA
Knit-N-Purl, Myrtle Beach, SC
Expressions Gallery, Watertown, SD
R & M Yarns, Georgetown, TN
Stitchin' Post, Nashville, TN
Sunny Side Yarns on Depot, Rogersville, TN
The Yarn Patch, Crossville, TN
Yarntiques, Johnson City, TN
Knitting Fairy Yarn Studio, Grand Prairie, TX
Nancy's Knits, Houston, TX
Hemstitched Heirlooms, Bountiful, UT
Kamille's, West Jordan, UT
A Likely Yarn, Abingdon, VA
Aylin's Woolgatherer, Falls Church, VA
Pinchknitter, Stanwood, WA
Yarn Folk, Ellensburg, WA
Ben Franklin Crafts, Oconomowoc, WI
Cowgirl Yarns, Laramie, WY
Ewe Count, Cheyenne, WY
Prairie Stitcher, Douglas, WY
Written on November 6, 2014 at 8:00 am, by Allison
Our Galway Worsted weight yarn has been in the Plymouth family for a long time. I remember being a teenager, working at my mom's yarn shop, and selling galway during the felted bag craze. Fun times! It was the perfect yarn for most projects- a durable, 4-ply (feltable) worsted weight with many colors and excellent yardage (210 yards for 100 Grams, to be exact.) It was well loved for fairisle projects, cabling, and held up well to pilling and wear. Oh! And who remembers Galway in a hank?
We've expanded the Galway yarn in more than one direction recently. I'll talk about only one today…..but stay tuned for a smaller (hint hint) Galway version in my next post.
Galway ROVING! Galway Roving is new to Plymouth- it is a singly ply bulky weight yarn that knits up at 2.5 sts= 1″ on a size 15 (10mm) needle.
We love it for chunky weight accessories and outdoorsy kind of knits.
Please enjoy the free pattern for this drop stitch cable cowl. It requires only 3 balls and an evening or two to make. The cowl is worked flat and then stitches are dropped to make a looser, less dense fabric. The ends are then sewn together to make a cowl-loop. Super fun and stylish! Download the free pattern
Written on October 1, 2014 at 9:00 am, by Allison
I love garter stitch. It's reversible. It's squishy. It's easy to stripe with.
New for fall, our lovely DK Merino Superwash makes an effortless triangle scarf. Styling triangular scarves is fun. You can wear the point in the front with the ends doubled around your neck (like a kerchief) or you can wear the point to the back, having the ends tied loosely in the front. Or you can wear the point on your shoulder, and pin the ends in place with your favorite shawl pin.
We have brand new colors in stock of DKMSW, so check them out. There are lots of color combinations to match with coats. –Enjoy! Vanessa
Written on September 11, 2014 at 10:00 am, by Allison
No matter where you live, there is sure to be a yarn event somewhere near you over the next couple of weeks.  Since there are so many, we've decided to list as many as we can right here in a neat little post.  Click on the links for each event for more detailed information.  Have fun and happy knitting!
September 5th -20th The 7th annual Yarn Discovery Tour has begun with hundreds of fiber enthusiasts starting to crisscross Northeast Ohio
September 12th  6:30-8:30 pm The Knitter's Edge in Bethlehem, PA will be tasting the newest and finest yarns of The Plymouth Yarn Company
September 13th-21st Yarn Along The Rockies is a 9 day yarn crawl with a Passport Tour of 24 participating yarn shops across the front range of Colorado.
September 13th-21st Gather your friends together and have a fun time as you visit great yarn shops and vie for a chance at terrific prizes at the 8th annual Atlanta Shop Hop
September 18th-21st San Diego Yarn Crawl. Come join in on a fun and exciting yarn crawl in San Diego, California. Meet lots of friendly shops and alpacas. Then shop for lots of exciting new yarns.
September 19th-21st North Country Fiber Fair Watertown, SD. The mission of the North Country Fiber Fair is to host an annual event, on the 3rd weekend of September, that provides educational and marketing opportunities for producers, fiber artists and consumers of natural fibers
September 19th & 20th Indiana and Illinois Fall Bus Shop Hop.
September 26th-28th The Western Connecticut Yarn Council presents the Fiber, Friends and Fun Yarn Crawl! 7 shops and 3 fiberlicious days of fun!
October 10th-19th The 8th annual Hill Country Yarn Crawl, the best little yarn crawl in Texas!  Ten fun-filled days crawling your way through 13 yarn shops around and about central Texas.
October 21st-26th Central Kansas Yarn Hop The Central Kansas Yarn Hop lets you gather your friends and support local yarn shops across central Kansas. Shop local!
I'm sure this is just a fraction of the many wonderful yarn related events happening, comment below or contact us if you'd like us to add your event.
So get in your car and go!  There are great prizes and new yarn discoveries just waiting for you in your local yarn shop.